Napoleon 13 Seer Central Air Conditioner Calgary
In Calgary there is not enough humidity in the winter and too much humidity in the summer. Calgary might not be as humid as some areas of Canada but it can still be very uncomfortable on hot and humid evenings.
Central Air Conditioning cools your home as well as dehumidifying the air making your home more comfortable.
Protech Plumbing supplies and installs Napoleon Central Air Conditioning in Calgary
Other areas we install Napoleon air conditioners are Rockyview Municipality, Airdrie, Crossfield, Cochrane, Chestermere, Okotoks, High River, Foothills Municipality and Bragg Creek
Some of the features of Napoleon are:
Made in Canada
13 SEER (Seasonal Energy Efficiency Ratio)
Taupe Colour Blends in with landscaping
Manufactured in Canada with eco-friendly technology
Warranty Limited 10 Year compressor and parts
PSC (Permanent Split Capacitor) Motor
Safeties are built in
Aluminum Coils will last longer than copper
Compact coils allow for smaller size of the air conditioner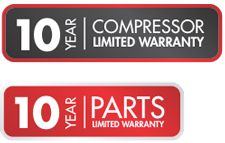 Serviceman like these units as service valves and refrigerant connections are outside the cabinet.
Should your motor assembly ever need to be removed the serviceman can remove from the top, making for a much quicker replacement.
There is a removable service panel for electrical connections.
The Napoleon Air Conditioner utilizes Swept Fan Blade Technology.
This makes for increased air flow as well as being quieter.
Micro Channel Condenser Coils are compact which allows for smaller air conditioner size as well as using less R-410A Refrigerant
R-410A used in newer systems is chlorine free.
If R-410A is accidentally leaked it  has much less effect on the Ozone Layer than  R-22  which was used for many years
Your air conditioner is a two part system with a compressor on the outside of your home and an indoor coil mounted just above the furnace in the heating plenum.
Refrigerant is pumped by the compressor through the coil.
When the refrigerant changes from liquid to gas, it cools, and the air is circulated through the coil removing heat from the air.
As cooler air cannot hold as much humidity as warm air, the humidity is reduced.
This condenses to water which goes in to a drain or condensate pump.
The heat that has been transferred to the coil is pumped back outside to the compressor as a gas.
The compressor then changes the gas back to a liquid and pumps it back to the coil.
.