Radiant Tube Heaters
These units heat objects and not air.
You must be very careful with clearances on these units taking into account future vehicles that may be parked underneath. If you install a car lift be make sure you still maintain proper clearances. A sign stating clearances must be hung with every one of these installations, it is a requirement of the city inspectors.
These units are quite popular although in our opinion they don't always make the best choice for a residential garage application.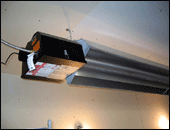 They are excellent for spot heating over barn stalls, workbenches in factories and patio heaters.
Unfortunately in most residential applications the heater is too close to the work bench and can be uncomfortable.
The radiant heater has a power vent which heats up a tube a very high temperature from the flue gases flowing through it.
This tube then radiates heat from the reflector panel which surrounds the upper portion of the tube.
Radiant tube heaters can come in many different lengths and btu ratings for different situations.
These heaters do not heat air but they heat any objects which are in line with the reflector panel.
It heats the floor, the walls, and anything under it. These warm objects then heat the surrounding air as they heat up.
These heaters can also either vent through the wall or through the roof.
Some manufacturers make them in a power vent and some make them in a direct vent.
The main advantage of these heaters is that they can used to heat small areas without heating the whole building.
Some of the disadvantages of these heaters are:
These heaters heat up objects, so if you plan to turn the heat right off it is not going to heat the garage up very quickly.
There can be clearance issues. They will fit in an eight foot garage but very carefull attention must paid to placement of the heater. You must take into account future situations, like possibly a truck or vehicle with higher roof parking in the future. Ideally a ten foot ceiling is better with this type of heater.
This can also be another disadvantage if it is mounted right over a work bench, the heat may be too intense as it is going to heat you up.
Generally this type of heater works best when you keep the heat on all the time at a fairly constant temperature. The fact it heats objects and not air, it takes longer to heat if the objects have cooled.
Calcana Garage Heater Brochure
Schwank Garage Heater Brochure