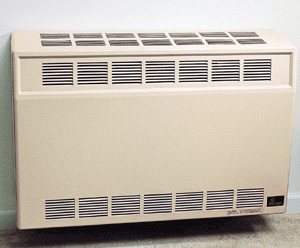 Direct Vent Wall Heaters
Empire Counterflow DVC35/DV55 Brochure
Empire DV210, DV215, DV25, DV35 Brochure
A Direct Vent Heater takes all of it's combustion air from the outside and vents directly outside. This means it burns outside air and not air you have already paid to heat for combustion. The burner is completely sealed to the outside so no carbon monoxide can enter the garage.The flame is totally sealed to the outside so the burner isn't going to light gas fumes or hazardous chemicals in the garage.
These heaters usually mount on an outside wall and the chimney vents directly out the wall.
Also the combustion air is brought from the outside so this makes the unit more efficient as it is not using air that you've already paid to heat for combustion air.
When the efficiency of a burner is stated it doesn't take this into account. An 80% heater that uses air in the garage for combustion is not going to be as efficient as an 80% efficient heater that uses outside air for combustion.
The fact that it is direct vent also means that it is a sealed combustion unit.
This means that the air in the garage is not exposed to any open flame from the burner or pilot burner.
A lot of times depending what you are doing in your garage there are several things that could cause a fire or explosion if they were exposed to an open flame. (gasoline fumes, paint thinners etc., sawdust, glues, leaking propane tank stored in garage, etc.)
A direct vent heater is in fact a safer unit if you are working with any dangerous chemicals, vapors, glues etc., or storing a propane tank in your garage. Empire DVC35
These units are quite compact and have less clearance issues than a lot of other heaters. Some units take up less than one square foot of floor space and you can build shelving to within four inches on either side.
Most units come with a fan so they can heat your garage up fairly quickly if you want to keep your heat low or off when you are not in the garage.
The termination vents tend to be more attractive on these units as well. If your are living in a half million dollar house a chimney sticking out past your eaves or a vent that looks like a exhaust pipe off a semi is not going to look that attractive from the front street.
They are also a very reliable heater.