Gas Dryers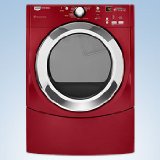 The flexible gas vent on a gas dryer must be metallic.
If you are replacing an electric dryer you will have to have it replaced if it is plastic. The vent must not contain any screws as these could collect lint causing the possibility of a fire hazard.
Whenever you are now installing any new gas appliance in your home you must have a carbon monoxide detector installed within 5 meters of any bedroom or sleeping area.
Usually one is enough in the main hallway but if you have bedrooms on another floor a second CO detector will have to be installed.
These detectors must either be hard wired or battery operated.
If they are plug in style they must have battery back up in case it is accidentally knocked out of the plug..
A battery operated CO detector can be purchased at Home Depot, Revy, etc. for about $40.00.