Overhead Unit Heaters
These Modine Hot Dawg Units have proven to be very reliable units with a less than 1% call back on service calls for us in their first year of operation.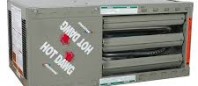 These units are quite popular. Most are the low profile which hang fairly close to the ceiling and have a fan which circulates the air. Most of these units have what are called power vented chimneys.
There is a small fan which pushes the flue gases out the chimney.
The natural vent b-vent unit heaters basically don't exist any more.
Soon you will not be allowed to install them so most suppliers don't even stock them or manufacturers don't make them anymore.
The power vent chimney can usually vent directly out the side wall or through the roof on a detached garage.
If you have an attached garage you most likely would not be able to vent it through the roof as a b-vent must be 2 feet higher than any roof line within ten feet horizontal distance.
As with most homes with an attached garage, the home is a two storey so this would be impossible to vent through the roof and maintain the proper clearances.
In almost all cases in this situation the chimney must vent through the sidewall.
The main advantages of this heater are that it can heat your garage up very quickly.
The fan circulates and heats up the air very quickly.
Some people like to turn the heat right off when they are not in the garage so a heater which heats the air with a fan can heat the garage up quickly.
These heaters come in many different sizes for many different size garages.
Reznor is another common heater for garages. We can sell these as well, but have found, in our experience that the Modine Hot Dawg has proven to be a much more reliable unit.
We have only experienced a 1% call back rate for warranty calls (1 out of every 100 we sell) on the Hot Dawg Heaters.