Barbecues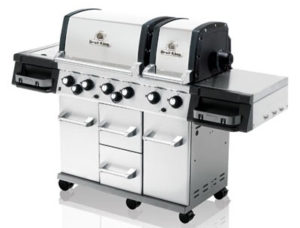 Protech now carries selected Weber, Broil King, Napoleon and Sterling barbecues.
Our pricing includes assembly and set up by a qualified gas fitter. When running a barbecue line we usually have to run a gas line from either the gas meter or the furnace room.
Occasionally we may be able to run from another gas line such as a dryer or a fireplace but usually these lines do not have enough capacity to add a barbecue to.
Some builders have decided to save maybe $150.00 on a half million dollar home to run a ¾ inch main to your furnace room instead of a 1" line at the time your home was built.
In this case the line will most likely have to be run from the gas meter.
Most fireplaces are at most 30,000 btu's while a lot of barbecues are at least 60,000 and some are even 130,000 with all the burners they have.
Some have (5 main, 2 side, 1 back, burners and also warming trays etc.).
Nowadays you also might want to add enough capacity to add a patio heater, a gas firepit, or even an outdoor gas fireplace on to your deck or into your backyard.
If your basement has finished ceilings we still may be able to fish the piping through the ceiling.
Protech Plumbing has done thousands and thousands of gas lines in homes so we have learned a lot of tricks.
If we can't get it from the inside we can run a gas line outside, usually along the foundation just under the siding. (might not be allowed if you have to deal with a condo board)
The piping is painted with a primer and in most situations it doesn't look that bad, as it is neatly and professionally ran.
A gas line can also be run underground to the backyard in many cases.
If you have an existing line out to your bbq you may not have enough capacity to add more appliances, and you may have to add another or a bigger line to the outside.
It is important that you have your installer take out a gas permit for the job. This ensures that the proper sized gas lines are run.
The City of Calgary inspector will ensure that the piping has enough capacity and will also check for proper installations, clearances and instances of poor workmanship.
It is against the law not to take a gas permit for any gas line or gas appliance installation in Calgary. Should you accidently burn down your home while barbecuing, it would be in your best interest if your gas line was approved for insurance purposes.
If you run across an installer that doesn't want to take out a gas permit, you should definitely look elsewhere.
There is absolutely no advantage for you not to have a permit on the job or to not have it inspected.
If you already have a barbecue outlet on your deck and the quick connect fitting is pointing up this has to be changed right away.
It must be either horizontal or be pointing down. A quick connect pointing up could collect water in it, and on a typical Calgary evening it could freeze.
Water expands when it freezes into ice and it will split the quick connect possibly causing a serious leak.
Also if it is pointing up you know it wasn't installed by a gasfitter and it should be checked for possible leaks.
After all if the installer didn't know any better about this rule what else didn't he know?
Estimates
A common question we often get is whether we do free estimates for a barbecue line. The gas line to a BBQ is very easy and straight forward.
We have a very detailed system for pricing gas lines which we can email to you. Just by doing a few measurements you should be able to determine almost exactly how much it is going to cost.
If you decide to go ahead we come out prepared to do the job and we will confirm the price before starting. We have everything we need already on the truck. If you don't then agree with the price we won't charge you, you just won't get us back.
Because a bar-b-que line is such a small and simple job, we can't come out to do an estimate and then send a truck a second time and still do it for the same price.
The odd time we might not do a job because a customer mistook an electrical meter for a gas meter and the gas line ended up being 50-100 feet longer than they expected.
We of course wouldn't charge the customer for an estimate in this case.
The biggest expense to a small job is just getting a truck and a journeyman to your home.
We are just trying to give you the best possible price for your job, and if we have to do a lot of unneeded extra running around we won't be able to do it as cheaply.
There are some companies that do free estimates for very small jobs, but they also end up being very expensive to do the job. We always encourage our customers to shop around before hiring us.
Converting from Propane
A lot of barbecues can be converted from propane to natural gas.
The orifices will have to be either drilled out or replaced with the proper size.
Also a rubber bbq hose and a quick connect fitting will have to be installed on the gas line.
If your bbq is not worth that much it is probably better to just buy a natural gas barbecue.
These already come supplied with the hose and quick connect fittings.
Natural gas is much cheaper than propane as a fuel. Propane is very inconvenient. You always seem to run out at the wrong time.
Disconnecting and reconnecting a tank all the time opens up the opportunity for a leak. Transporting propane tanks can be hazardous if not done properly.
Storing propane tanks in an improper place or unsafe condition can be very dangerous.(not good to store them in the sun) For natural gas you just plug the hose into the quick connect and not have to worry about a gas leak, and you don't have to worry about running out of fuel in the middle of cooking.
The biggest difference between propane and natural gas is that propane is heavier than air and natural gas is lighter.
If you have a propane leak it can pool in the bottom of your bbq and can build up to a dangerous situation when you introduce a spark or flame.
Should you have a natural gas leak it rises up into the air and away from the bbq. The smell of mercaptan (the odorant added to propane and natural gas) is much more easily detected when it rises up into the air. Some condo and apartment buildings will not allow you to bring propane tanks into the building.
Propane is a hotter gas than natural gas, but a 60,000 btu propane bbq heats exactly the same as a 60,000 btu natural gas barbecue.
This is because a natural gas burner has bigger orfices in the burner so it burns more gas to obtain the same amount of heat.
Even though it burns more fuel, natural gas  is still 3- 5 times cheaper than propane.
We install natural gas lines in Calgary,  Airdrie,  Cochrane, Okotoks, Chestermere, Rockyview,  Heritage Pointe, Foothills, Strathmore as well as many other communties in the Calgary Area