Gas Ranges and Cook Tops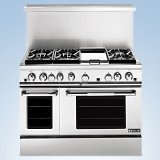 A few important things to keep in mind for a gas range. In most cases your warranty is void if not installed by a licensed gas fitter.
Three other important requirements are a Carbon Monoxide Detector, an anti tip bracket and proper clearances to cabinets.
There are a few important things to know regarding gas ranges and cook tops.
All gas ranges must have an anti tip safety device installed to pass inspection.
The purpose of this is if a child or anyone was to open the oven door and climb up on to the door there is a chance of a boiling pot coming down and causing very serious or fatal consequences.
This anti tip device prevents the range from tipping and is supplied with a new range.
If you are buying a used range or one off the showroom floor make sure that this bracket is included.
Our basic installation charge for a range includes the installation of the anti tip bracket. Inspector will fail installation if not installed.
Whenever you are now installing any new gas appliance in your home you must have a carbon monoxide detector installed within 5 meters of any bedroom or sleeping area. Usually one is enough in the main hallway but if you have bedrooms on another floor a second CO detector will have to be installed.
These detectors must either be hard wired or battery operated. If they are plug in style they must have battery back up in case it is accidentally knocked out of the plug..
A battery operated CO detector can be purchased at Home Depot, Rona, etc. for about $40.00.
Installation wil not pass inspection if not installed. We can supply if needed.
Range Clearances to Cupboards
You need 30″ above the range to the bottom of the cabinet.
This is measuring to the bottom of the cabinets or the top of the range hood.
If there is a microwave/hood fan combination you would go by the hood fan clearances as stated in the manufacturers manual that comes with the hood fan.
The 30 inch clearance above is not generally a problem but where we often have a problem are the upper cabinets to the left and the right above the range.
From the counter top to the bottom of the upper cabinets to the right and left are required to have 18 inches clearance.
If you only have 17 inches clearance the inspector is not going to pass the installation.
In this situation if the cabinets cannot be altered or raised there still is one other option. Metal protection brackets can be custom made.
These have to have a 1 inch air clearance from the cabinet on the bottom and the sides to a distance of at least 18 inches up on the side and 3 inches over from the edge of the range or cook top on the bottom of the cabinet.
Sometimes it is better to bring the metal up to the bottom of the range hood just for appearances sake.
These can be made of stainless steel or satin coat metal painted.
If you have any questions regarding these confusing regulations please contact us at 403-243-4229, or by filling out our contact form.
Any answers to your questions are free and there is no obligation.
If you have anyone installing a range or gas line to your range this is a must that the contractor is fully insured and the installation has a permit and is inspected.
We carry $5,000,000 liability insurance on all our jobs.
We have never had to make a single claim in our 31 years in business but we do have the protection in place for your benefit.
.